Everyone in the selection of dining table and chairs, the first thing to pay attention to whether it matches the entire home decor style, can not blindly choose only good-looking, their favorite, or with improper instead will look cumbersome.
Because of the different decoration style furniture dining table and chairs with the gap will certainly be, such as simple style dining table and chairs are not suitable with the gorgeous European style home, it will be out of place, looks not enough atmosphere beautiful. Currently on the market common dining table and chairs style Scandinavian minimalist style, American country style, modern minimalist style, etc., you can pick according to the actual needs.
(1) Nordic minimalist style
Scandinavian style dining table and chairs generally prefer black and white gray tones, mainly solid wood, abandon the complex shape, very life, the combination placed in the dining room with other Nordic decorations, full of beauty. In particular, the Nordic style solid wood frame and leather cushion combination of dining chairs, environmental health, high stability, simple shape under the color of retro emanation, very Nordic style natural sense of leisure.
(2) American country style
American country style dining table and chairs are also very popular, it is rich in retro and elegant flavor, comes with a sense of warmth and personality, can make people feel the breath of nature in the restaurant around. At the same time we dine in the American country style dining table and chairs, can instantly feel relaxed and at ease, so very popular with young people.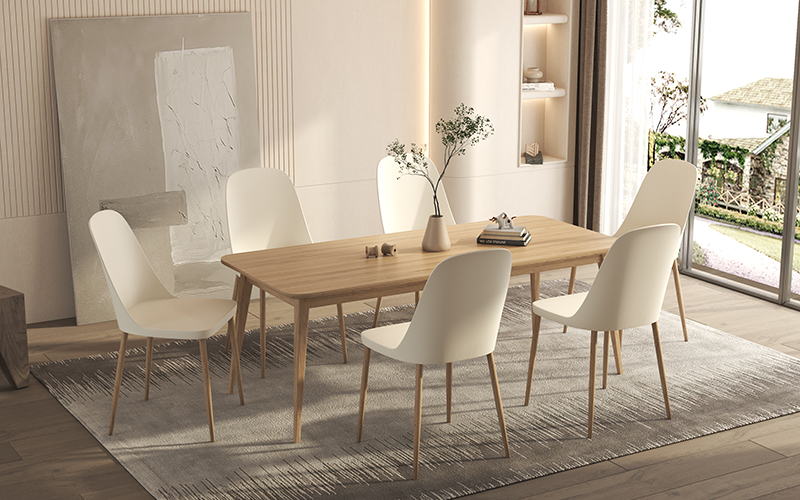 3) Modern minimalist style
Of course, modern minimalist style is also very popular in recent years, home decorating style, advocating simplicity and not simple, without too much fussy decoration, you can make the whole home looks stylish and chic. And minimalist fashion dining table and chairs mostly in solid wood or marble combined with a modern style, clean and crisp lines, beautiful and practical, can add a lot of color to the restaurant.
Summary: whether Scandinavian style, American style or modern style, we also need to consider when selecting the dining table and chairs with the color, try not to choose fancy, high saturation color, so as not to match too jump conspicuous, affecting the aesthetics.
---
Post time: Jan-31-2023